When you're first starting a vegan diet it can seem difficult to figure out what to take to work for lunch, especially if you don't have a way to heat up your food.  We had this same problem finding vegan lunchbox ideas for my boyfriend when we first started on a plant based diet.  After a lot of searching I found some easy vegan cold packed lunch ideas for work and put them together here for you so you don't have to search everywhere like I did.
I have tried all of these vegan cold lunch recipes and we both absolutely love them.  So this is my list of the best vegan cold lunch recipes I've tried so far.  One thing I really love about these recipes is that the amounts are enough that you can make the recipe on Sunday and you'll have enough for the whole week.
What Can A Vegan Have For Lunch?
There are actually quite a few things that are perfect for a vegan lunch.  Plant based wraps, vegan potato salad, vegan tortilla pinwheels, salad and pasta salad are a few of my go-to vegan cold lunch ideas.
These vegan lunches are perfect if you are eating plant based on a budget because they really stretch and the ingredients are cheap.  They're also perfect for meal prep.
The Best Easy Vegan Cold Packed Lunch Ideas For Work
This vegan bok choy salad is perfect for a packed lunch for work because you can toss it all together and it doesn't really get soggy.  I really like it because it's different from the traditional salad that I would put together myself.  It has a ton of texture and crunch!  Recipe by Eat Healthy Eat Happy.
I happen to love buffalo sauce so this recipe was right up my alley.  It has all the flavors of buffalo wings and just the right textures and crunch.  The recipe uses silken tofu and vegan mayo for the creamy sauce and it's so delicious!  It makes a great vegan lunchbox meal because it tastes amazing cold or room temperature.  Recipe by Vegan Travel Eats.
Green goddess is one of my favorite dressings so this vegan pasta salad really hit the spot for me.  I think you'll love the flavors!  And the bell peppers, carrots, and tomatoes go perfectly in this recipe.  Recipe by Monkey and Me Kitchen Adventures.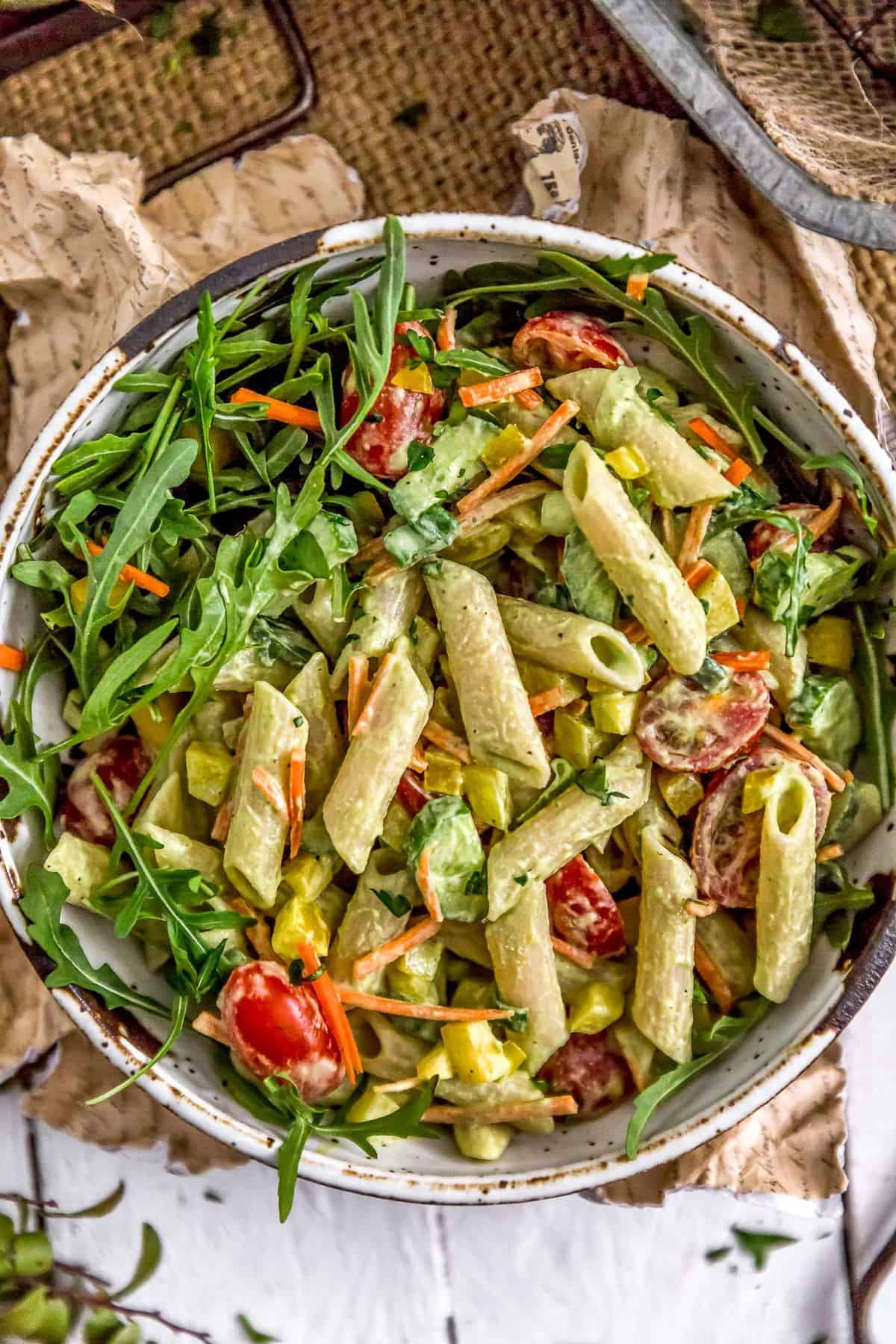 This plant based cold lunch recipe is one of my most favorite from this list.  The peanut sauce is amazing!  And it has lots of crunchy textures to complement the noodles.  So so good!  Recipe by Feasting At Home.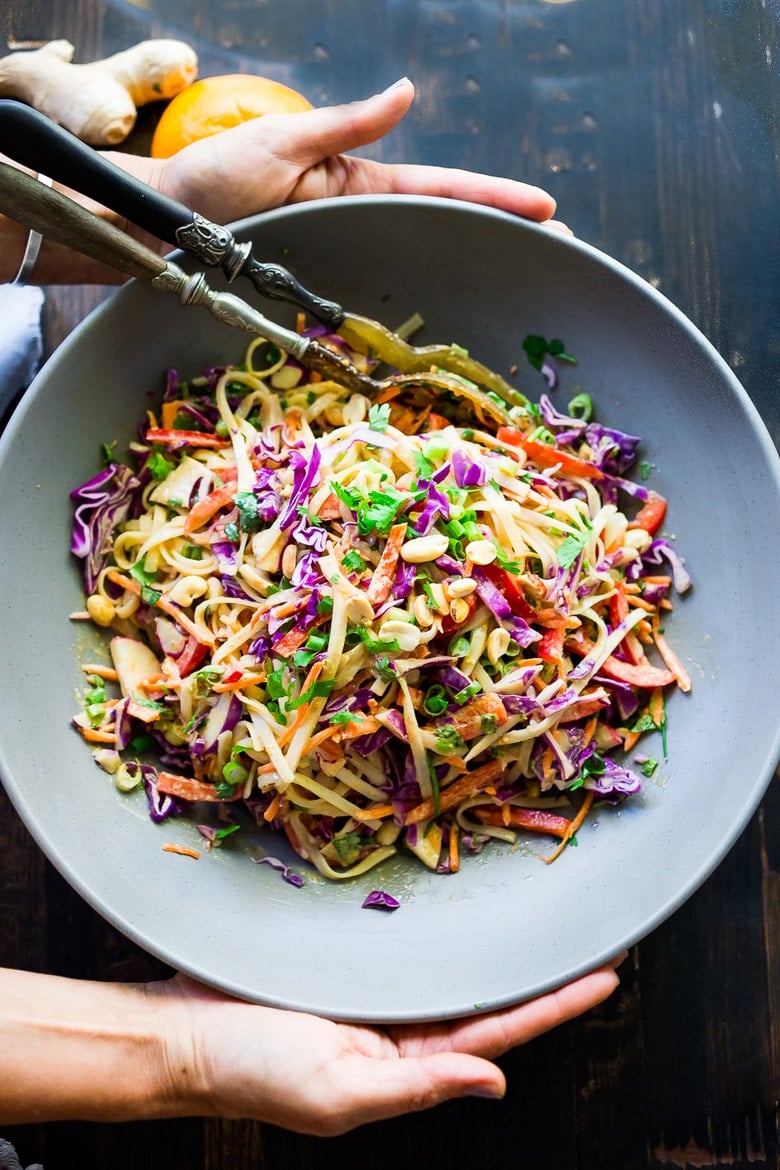 This vegan pasta salad is crazy good!  I couldn't find vegan parmesan so I just left it off and it was still amazing.  The sweet corn with the other veggies and flavors in this recipe make you want to dive into the whole bowl of this stuff.  Recipe by Sweet Simple Vegan.
This one may not be filling enough for a complete lunch, but it's a really simple and easy recipe that you could eat as a side dish for lunch.  It only has a few ingredients and takes a few minutes to make.  Plus it's super delicious and a great way to get more veggies in!  Recipe by Tiny Kitchen Cuisine
These wraps are really easy to make and so good! It's the perfect cold lunch on the go since it's handheld.  I have made them exactly with the recipe and I've also used different dressings like vegan ranch and vegan green goddess to change up the flavor.  The crispy tofu in this recipe is so versatile you can use it in tons of other recipes too.  Recipe by It Doesn't Taste Like Chicken.
This vegan pizza is so freaking yummy!  I usually make two pizzas so we have one to eat hot for dinner and then the second one we eat cold for lunch.  I love that it's delicious hot or cold which makes it awesome to take to work or school for lunch.  Recipe by This Savory Vegan.
Ok so this recipe is not actually vegan, but I adapted it to make it vegan by making two simple changes.  I used vegan mayo and tofu sour cream.  I found both of those items at Sprouts and Whole Foods.  I absolutely love dill potato salad, but I didn't find any vegan recipes for it that looked like exactly what I wanted.  So I decided to use this one and make those two changes and it turned out perfect!  Recipe by Spend With Pennies.
You've probably had something similar to this at a party sometime.  These are a really great vegan lunch for on the go because you can pick them up and pop them in your mouth.  This recipe is amazing!  You can also play around with adding different seasonings and veggies to change it up.  Recipe by Simple Vegan Blog.
I hope you love these easy vegan cold lunch ideas for work!  These are my favorites and I hope they'll be some of your favorite go-to lunch recipes too.
Other posts about vegan lifestyle that you might like: