If you're juggling work, school, dance classes, sports practices, and all the day to day activities that come with being a mom, these easy vegan dinner recipes for busy moms will save the day.
10 Easy Vegan Dinner Recipes For Busy Moms
Vegan Garlic Butter Pasta
Vegan Baked Ziti
Vegan 7 Layer Burritos
Loaded Vegan Quesadillas
Vegan Jambalaya
Vegan Fried Rice
Vegan Tofu Sandwiches
Instant Pot Vegan Chili Mac
Vegan Bagel Bites
Vegan Street Corn Pasta Salad
This vegan garlic butter pasta is amazing!  I've always loved alfredo sauce and this sauce reminds me of that.  I like to use oatmilk in this recipe because I enjoy the flavor of oatmilk over any of the other dairy-free milks, but almond milk tastes great in this quick and easy recipe too.  
This recipe has minimal ingredients which I always look for in a simple recipe for weeknight dinners when I'm busy.  It does call for a little bit of hot sauce, but it tastes great without the hot sauce if you're a mom with little ones that can't handle it.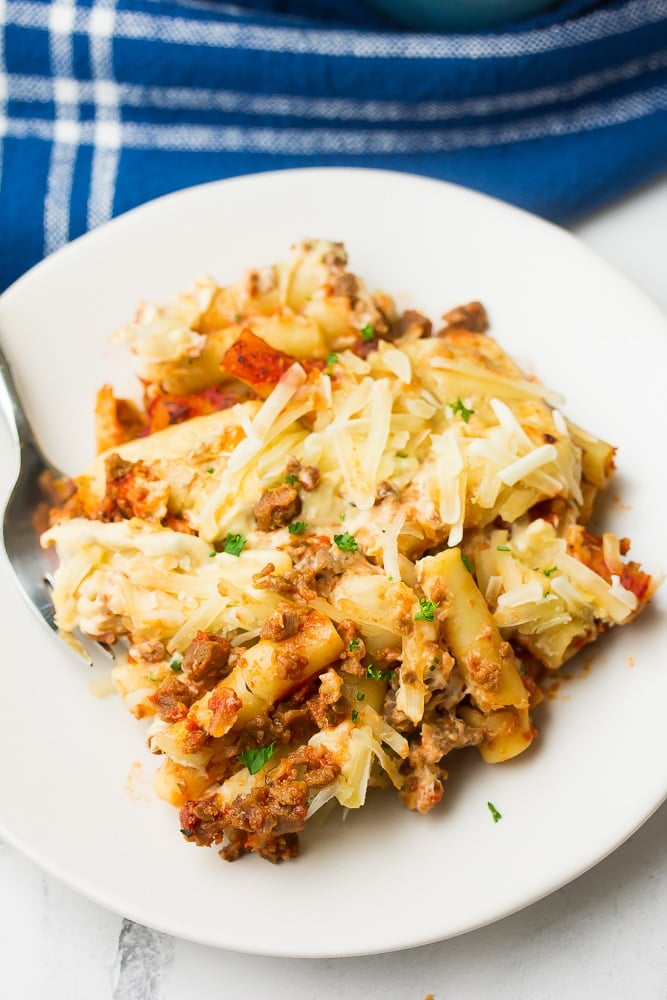 I can't even tell you how delicious this recipe is!  Her cashew cheese sauce is easy to make and you don't have to soak the cashews forever like most recipes.  It's a 5 minute method!  This recipe is totally kid-friendly and I'm sure they'll gobble it up.  There aren't many ingredients either so it's super simple to put together on a weeknight after work.
This one has to bake for 25 minutes after assembling it, but I put it on this list of quick and easy vegan recipes for busy moms because it doesn't take long to put together and you can take care of other things while it bakes.
Vegan 7 Layer Burritos
These 7 layer burritos are the ultimate easy vegan dinner recipe when you're busy.  This vegan recipe is great for busy moms with kids that are on the go.
Here's what you need to make vegan 7 layer burritos:
Burrito size tortillas
Refried beans
Cooked rice
Guacamole
Black olives
Vegan sour cream
Lettuce
Tomatoes
Warm up the refried beans and rice if it's been refrigerated and then layer the ingredients in your tortilla and wrap it into a burrito and dinner is served!
This meal will only take 5 minutes to put together if you have your rice already cooked and 10 minutes if you have to cook the rice.  So simple and so good! 
If you want to try adding some other things, salsa or taco sauce is a yummy addition. Vegan cheese melted on the tortilla before you add the other ingredients is also really good (Daiya is my favorite brand).
I also like to season the beans with a little salt, garlic powder, cumin and chili powder if I have some extra time, but it's totally not necessary. 
Kids always love mac and cheese which makes this the perfect vegan dinner recipe if you're a busy mom.  There won't be any complaints coming from your kids' mouths when you tell them what's for dinner.  This recipe is also gluten free, but you can make it with regular pasta and wheat flour if you're not gluten free.
A lot of vegan macaroni and cheese recipes have you make a cashew sauce or potato sauce or carrot sauce.  This one is so simple just using dairy-free milk to make a thick creamy cheese sauce that tastes amazing.
This vegan quesadilla is a great way to get more veggies into your kids' diet and they're going to love it!  The cheese sauce is easy to make and can be made ahead so these quesadillas are quick to make after work.
This vegan jambalaya is a favorite around our house.  The seasoning is perfection.  Cook your rice ahead of time and this is a meal you can put together in just a few minutes.
I'm not a huge fan of beans so I actually make this without the beans and add more bell peppers and it's awesome.  So if you or your kids aren't bean lovers, you can make this without the beans and still have a fantastic vegan dinner.
This vegan fried rice recipe is really easy to throw together for a weeknight dinner.  You're supposed to use cold rice to make fried rice so you can cook your rice up ahead of time and just put the few remaining ingredients together at dinner time.  This is a flavorful vegan dinner that your whole family will love.
Vegan Tofu Sandwiches
I really hated tofu when I first became vegan, but once I learned how to make it so that it has a meaty texture rather than the squishy tofu consistency, I started to love how versatile it is.  You can read how I make my tofu have a meat texture here.
For vegan tofu sandwiches you'll need:
Rolls or Bagels
Tofu
Seasoning (I like BBQ seasoning)
Vegan Mayo (Vegenaise is my favorite)
Lettuce
Tomatoes
BBQ sauce (optional but recommended)
Slice your tofu, season it on both sides and cook it in the air fryer or oven.  This is the best way to cook it here.
Put mayo on your roll or bagel.
Layer the tofu on the roll and top with BBQ sauce.
Add lettuce and tomato slices.
This is a super simple vegan dinner you can put together in about 15 or 20 minutes.  It's not much work since your air fryer or oven does most of the work.  Your kids will love it and so will you!
Okay first I have to say I love that this recipe is an Instant Pot recipe.  I like any dinners that I can put into my Instant Pot and go do the other things I need to do before dinner.  This vegan chili mac and cheese is the ultimate comfort food. 
It's great for those colder nights or if you just need a really filling dinner. This vegan chili mac recipe isn't spicy so you're kids will be able to enjoy it.
These vegan bagel bites are so quick and easy for a weeknight dinner.  They also make a great after school snack too.  There are only a few ingredients and they're so simple to make your kids will be able to help. 
If you want to make them more hearty you can add some veggies like bell peppers, black olives and mushrooms.
This recipe is amazing!  It's the perfect amount of creamy, sweet (from the corn) and salty.  This one is perfect for summer nights when it's warm outside since it's a cold salad.
You can make it ahead of time and dinner is ready as soon as you get home!  It's also great to take in lunches if you have leftovers.
If you're like me and love having variety in your vegan diet, this RECIPE COLLECTION is amazing.
  You can have any type of recipe you want right at your fingertips without searching the internet for hours.
Need some other vegan recipe ideas?  Be sure to check these out.