What can vegans eat for breakfast?
When I first started eating vegan, I wasn't quite sure what to eat for breakfast.  I was worried that tofu would be too weird for me and I was skeptical about plant-based meat substitutes.  After experimenting with some things, I realized that vegans can eat just about any breakfast food.  You just have to find a copycat recipe of a traditional breakfast food that's vegan or plant based.  These simple make ahead vegan breakfast ideas will make it so easy to find something you love to eat every morning if you're short on time.  I love tofu as an egg replacement and some of the plant-based breakfast meat replacements are good.  You have to try a few to find one you love.
How do vegans meal prep breakfast for the week?
Vegan meal prep is just as easy if not easier than traditional meal prep.  Cutting up veggies and fruits ahead of time and having them ready to use in recipes for the week is super simple.  This makes it easy to throw together your breakfast in a hurry.  Simple make ahead recipes that can be reheated make it really easy to have tasty food ready when you're on the go.  You can just reheat and eat.
This post contains affiliate links.  See my disclosure.
10 Simple Make Ahead Vegan Breakfast Ideas (That Taste Delicious!)
I've tried all of these recipes and can tell you these make ahead vegan recipes are amazing and taste delicious!  You won't be disappointed.  I've included some notes about small changes I may have made or ways you can tweak them to your taste.  I hope you love them as much as I do!
This is one of the very first plant based recipes I ever tried when I started eating a vegan diet and it's really good and easy to make.  I love that everything gets cooked in the oven so I don't have to stand over the stove while it's cooking.  This makes it really simple to get it in the oven and then get ready for work or do other things that need to be done if you want to make it the day of, but it reheats perfectly which makes it a perfect make ahead vegan breakfast recipe if you want to meal prep on the weekend.  Sometimes if I'm extra lazy, I use frozen hashbrowns instead of cutting up my own potatoes.  If you don't like beans you can leave those out and add more veggies.
Tofu is the perfect texture to replace eggs.  This breakfast recipe is simple and quick to make and you can put it in a burrito with hashbrowns, eat it with pancakes, or add some veggies.  It's so versatile.  Did you know you can make tofu taste just like eggs?!  All you have to do is add kala namak
.  It's an Indian salt that has an egg flavor.  This vegan breakfast idea is awesome for a school or work morning because it only takes a few minutes to make, but it's a great make ahead vegan breakfast because it will taste exactly the same when you reheat it.
This is one of my favorite vegan hashbrown recipes.  It has quite a few ingredients, but what I love about it is all of the ingredients can be prepped ahead of time and reheated for breakfast during the busy work week.  I love the recipe just as it is, but it's also awesome with just about any veggies you have on hand.  If you're feeling lazy and don't want to make the sauce, you could replace it with vegan cheese (my favorite is Violife).  I also love it with white gravy!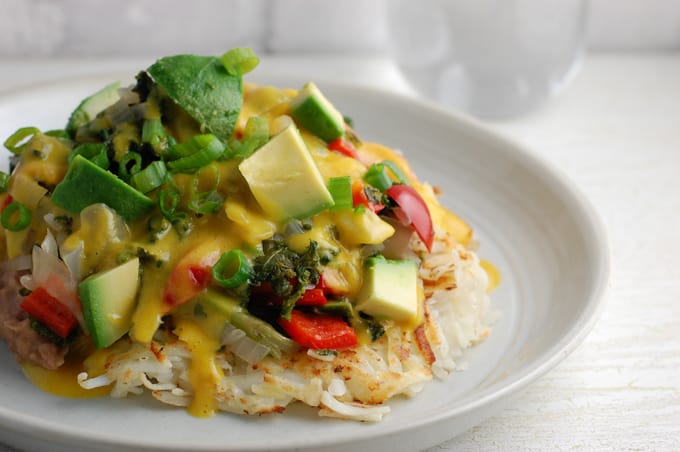 Plant Based Peanut Butter Chocolate Chip Oatmeal
This isn't a recipe technically, just something I made up and eat at least a couple of times a week because who doesn't love chocolate for breakfast?!  I make steel cut oats, but you can use any oatmeal you like.  Steel cut oats are my favorite
because I can't stand mushy oatmeal.  The texture of steel cut reminds me more of rice than oatmeal.  I usually make enough ahead to last me at least for a few breakfasts so I don't have to cook it every day.  I add a little brown sugar to my oatmeal and mix it around.  Then I put a spoonful of peanut butter on top (I don't mix it in because I like the texture of the peanut butter in each bite) and sprinkle on some vegan chocolate chips
.  Then make sure you get a little peanut butter and a little chocolate in each bite.  It's so freaking good!  You have to try it!  Sorry I don't have a photo of this one 🙁
This breakfast recipe takes a little extra time because of the biscuits, but you can make them ahead and reheat them.  The real reason I put this recipe here though is the gravy!  I put this gravy on EVERYTHING!  I use it on the loaded hashbrown recipe above or just plain hashbrowns.  It's so good!  It tastes amazing on mashed potatoes for dinner too.  The gravy only takes a few minutes to whip up and it can be reheated.  If the gravy gets too thick when reheating, just add a little more almond milk to thin it out a bit.
This plant based breakfast recipe is super simple especially if you use store bought vegan chorizo.  You can use frozen hashbrowns to make it even easier if you don't want to do all the dicing yourself.  It's so good and can be made ahead on your weekly meal prep day and reheated for a vegan breakfast in a hurry.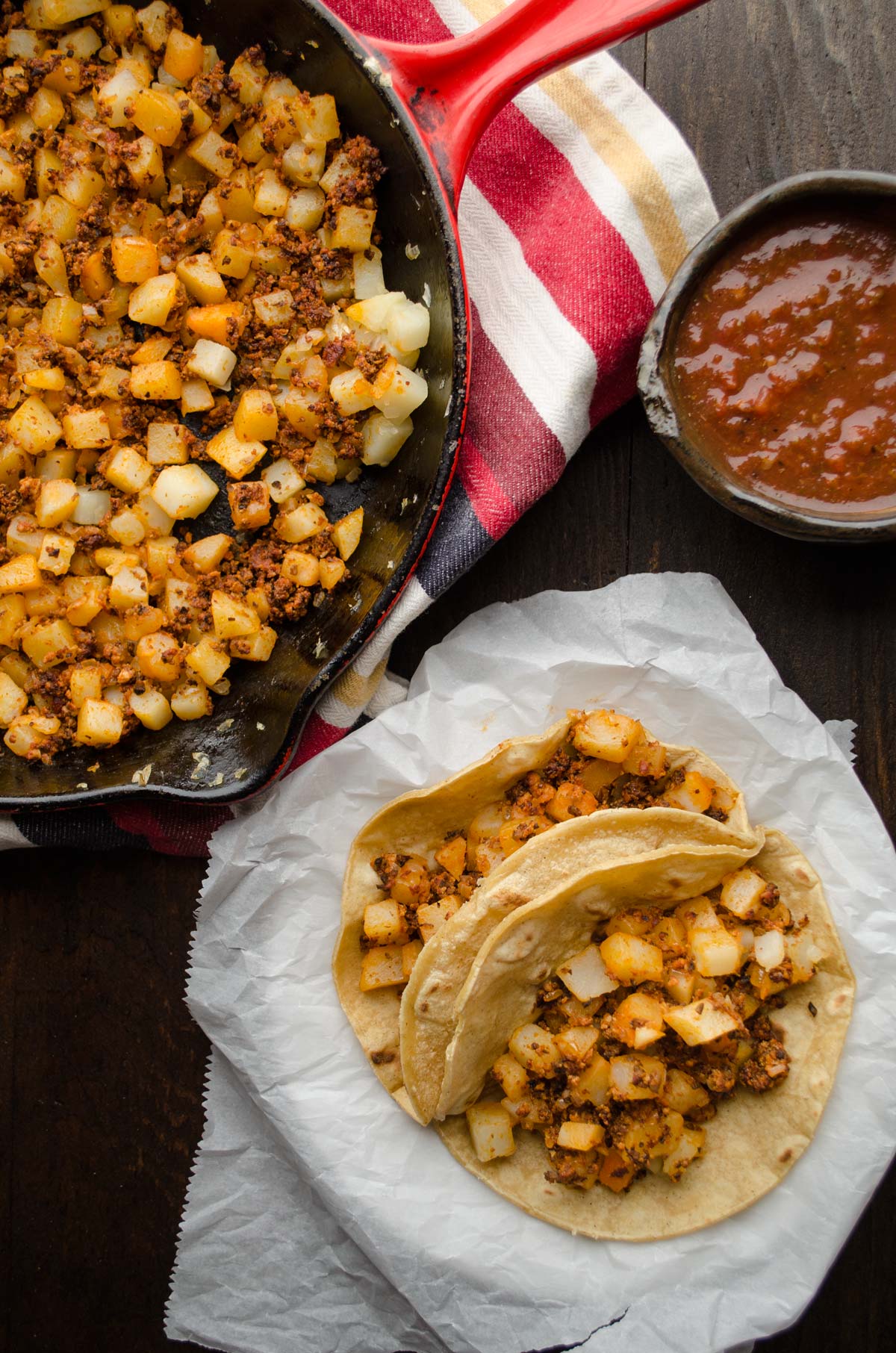 This vegan breakfast sandwich is SO SO GOOD!  The tofu has a smoky flavor and the everything bagel just makes it perfection.  I wouldn't make the whole sandwich ahead of time if you want your tofu to be crispy.  I reheat the tofu separately and then put the sandwich together when I want to eat it.  It doesn't take more than a couple of minutes.  To reheat the tofu, I throw mine in my air fryer
so it still has the crispy texture on the outside.  I'm super obsessed with my air fryer.  I cook so many foods and use it to reheat foods that I want to be crispy.  If you don't have one, but are thinking of getting one, my biggest piece of advice would be to not get a small one.  Some of them are tiny and barely fit anything.  I would go with at least a 6 quart one
.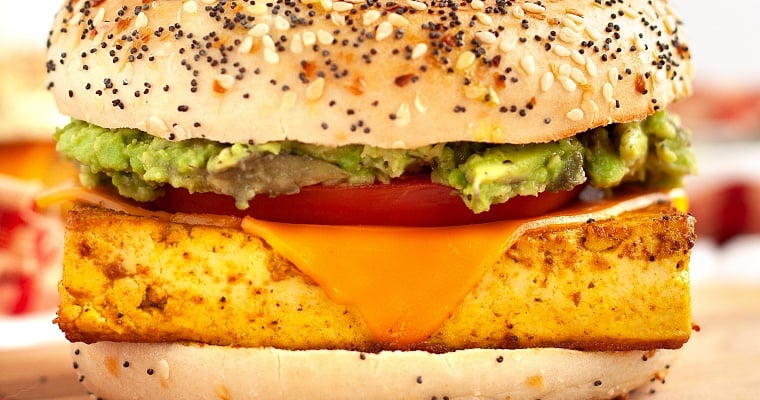 I love this prep ahead breakfast recipe because you just mix it up and put it in the oven and do something else while it bakes.  It doesn't have too many ingredients and you can feed the whole family with it.  They're also made with rice flour for those who can't eat gluten.  It's also a perfect make ahead vegan recipe for when you're short on time and can heat up when you're in a hurry.
This vegan breakfast casserole recipe is simple to put together.  It does take about 45 minutes in the oven so you have to plan ahead a little, but it's delicious reheated so you can make it ahead or take advantage of the 45 minutes while it's baking to get ready for work.  Veggies, tofu eggs and hashbrowns all combined together for a hearty simple plant based breakfast to start your day.  You can use any veggies you like in this recipe and it will turn out delicious!
These little vegan "egg" muffins are the perfect handheld breakfast if you need to reheat them and eat in the car.  These are like little quiches filled with veggies.  They reheat really well so they're an awesome make ahead breakfast idea for on the go.
I hope you enjoy these make ahead vegan breakfast ideas.  Be sure to check out my other favorite vegan recipe posts!