Some nights you just need an extremely simple vegan dinner recipe because you're short on time.  Or maybe you're a beginner vegan and feel overwhelmed by some of the dinner recipes you find that have too many ingredients or ingredients you've never even heard of.
This list of easy vegan dinner recipes will make your life so simple no matter what your situation is.  They're great for work nights when you only have time for a 15 minute vegan dinner or if you're feeling like you want a cheap, lazy vegan dinner idea because you'd rather sit on the sofa than stand at the stove.
Extremely Simple Vegan Dinner Recipes (15 Minutes Or Less)
This recipe is so easy to make!  You literally just throw the ingredients in your food processor and put it inside of a tortilla and toast it.  But don't be fooled by how simple it is.  The flavor is on point!  So flavorful and delicious.  The garlic, tomatoes and parsley make the flavors pop.
I like to make extra ones so I can heat them up in the toaster oven or air fryer if I'm feeling even more lazy one night and need leftovers.  You can also refrigerate the filling so all you have to do is add it to a tortilla and toast it for an even simpler vegan dinner after work or school.
I love this extremely simple vegan dinner recipe by Salt And Lavender because not only is it mouth-wateringly delicious, but it's also healthy.  You do need a spiralizer
for this recipe to make the zoodles (zucchini noodles).
This easy recipe has very few ingredients and is packed with flavor.
Vegan Heaven is one of my favorite vegan recipe blogs.  I can always count on her recipes to be yummy with just the perfect seasoning.  This easy lemon pasta doesn't disappoint.
All you have to do is get your pasta on to cook and throw the other ingredients in a blender and then heat them up to make the sauce.  It doesn't get much easier than that!
First of all I am obsessed with rice noodles.  Something about the texture makes them one of my favorite noodles to use.  Plus they really soak up and hold onto whatever sauce you put on them.
This super simple stir fry dinner recipe is so good!  The sauce is extremely easy to make and you can use whatever veggies you want.  I like to grab the ones in the produce section that are already cut up to make this recipe even faster and easier.  You can add tofu if you want, but to be honest, this recipe doesn't need it.
This vegan dinner recipe is extremely simple, but it's even easier if you already have some leftover rice in the refrigerator.  I love that it has edamame in it.  It has limited ingredients making it perfect to throw together a delicious dinner in a hurry.
There's nothing better than a good bowl of chili on a cold night!  This delicious vegan version is the ultimate comfort food to warm you up.  You can whip it up in 15 minutes and cozy up by the fire.
I love the smoky flavor that the chipotles give it.  One of the optional garnishes is cilantro (which I happen to love).  If you like cilantro, you have to try sprinkling a little on top after it's cooked.  Amazing!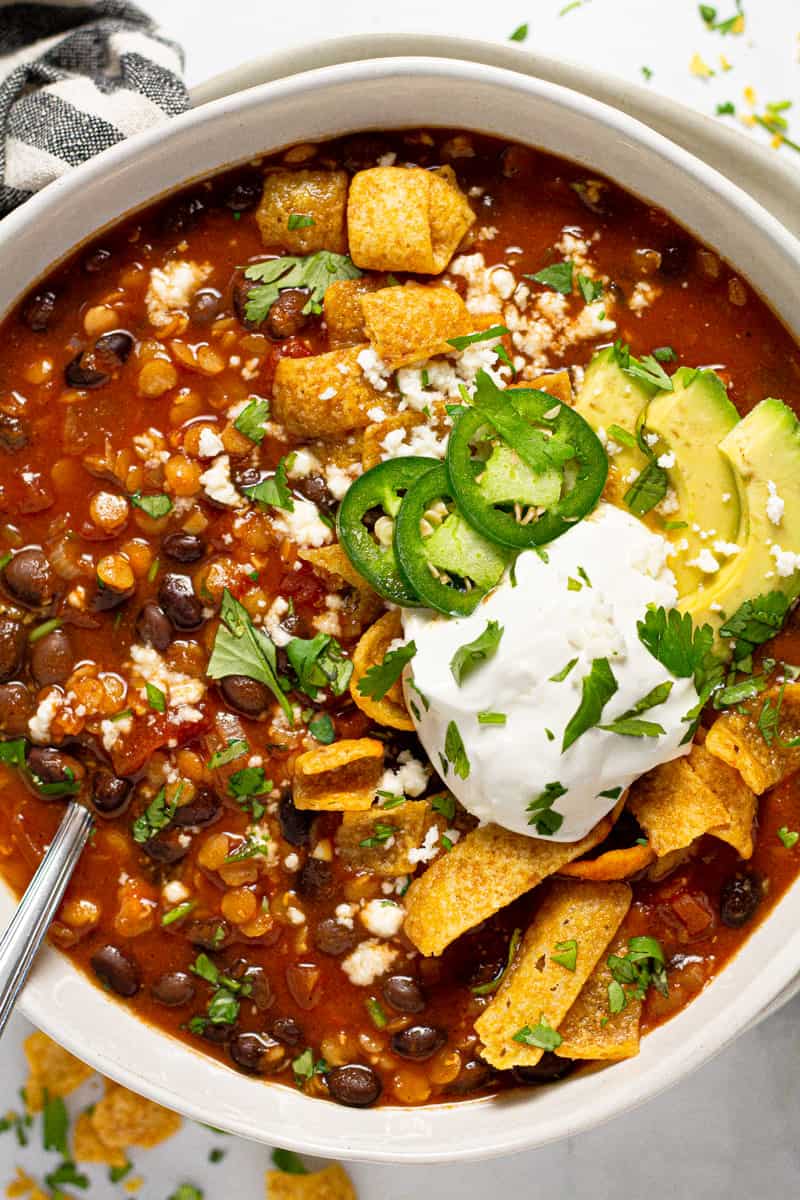 I love to eat hummus as a snack, but when I saw this vegan hummus pasta recipe I knew I had to try it.  I'm so glad I did.  It has Mediterranean vibes with the hummus and basil.  It's an extremely simple vegan dinner recipe that you can make in 15 minutes easily.
It has spinach in it so you can get in your veggies too.  Be sure to add this one to your weekly menu plan!